Your vehicle's handling and ride comfort can hinge on your tyres – and not just any tyres. To get the most out of your driving experience, you need a set that's right for your vehicle, driving habits and road conditions.
BHM Automotive are Moorabbin's tyre specialists. We supply a range of tyres for all vehicle makes and models, from passenger cars, vans and utes through to light trucks.
Whether you're after a zippy set for city driving or something more rugged for a ute, we'll make sure you drive away with the right tyres for your needs.
We stock leading brands such Michelin, Dunlop and Goodyear, along with budget alternatives. 
Once we've found your perfect set, our tyre service technicians are on hand to expertly fit, balance and align them to your vehicle. Using the latest equipment for wheel balancing and alignment, we'll have you on the road in comfort and style in no time.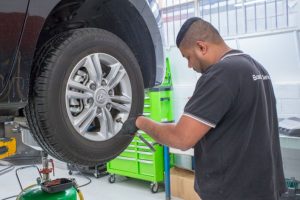 We usually have a one-day turnaround on tyre fitting, alignment and balancing. In many cases, we can do the job while you wait, provided we have the right tyres in stock.
Whether it's a new set of tyres or wheel repairs, Moorabbin residents can rely on BHM Automotive to keep them rolling.
Make a booking now using our simple online form, or call us on (03) 9555 2764 to discuss your needs.
For your convenience, we have loan cars available by appointment and a free local pick up and drop off service! See the included local pick up and drop off suburbs here.
Contact Us: